Cart Contents
Your cart is currently empty
Subtotal: $0.00
Categories
Manufacturers
Bestsellers
Sale Item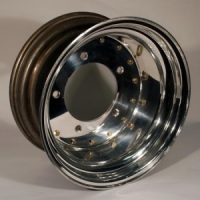 Tatum 15"x5 1/4" CMS Wheel
$189.99
Currency
Translation

Product Details
LS1 Billet CNC Alternator Bracket With Billet Idler Pulley

SKU: AL104
Overview
Billet alternator bracket
This adapter bolts in place of the factory unit and accepts factory and most aftermarket alternators.
Machined from plate 6061-T6 aircraft grade aluminum.
This bracket is significantly stronger than the factory cast aluminum piece.
Designed to ride on the Camaro/GTO belt line.
Some shimming may be required do to the differences in aftermarket and rebuilt alternators.
Billet Idler Pulley
Billet 6061 T-6 Aluminum.
Replaceable bearing and snap ring.
Same high spec bearing as GM LS3.
(12x17x40mm)
Comes with snap ring and bearing installed.
Pulley is Made in the USA.
Fits 6-ribbed serpentine belts Diameter 3.0" ,Width 1 5/16"
Alternator Only
If you are only running the alternator and not a power steering pump, please check the alternator only box
When running only the alternator, we will supply a 6 rib pulley, and counter sink the holes to use Allen head bolts, this allows for more belt clearance.
This feature is a great improvement over the stock bracket.
"
Tell a Friend